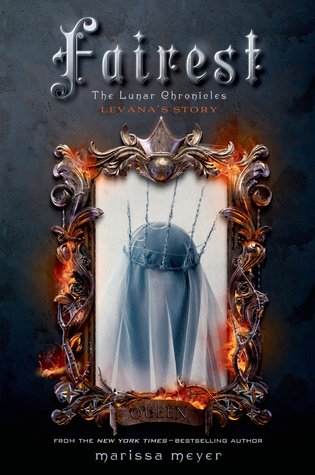 In this stunning bridge book between
Cress
and
Winter
in the bestselling Lunar Chronicles, Queen Levana's story is finally told.
Mirror, mirror on the wall,
Who is the fairest of them all?
Fans of the Lunar Chronicles know Queen Levana as a ruler who uses her "glamour" to gain power. But long before she crossed paths with Cinder, Scarlet, and Cress, Levana lived a very different story – a story that has never been told . . . until now.
Marissa Meyer spins yet another unforgettable tale about love and war, deceit and death. This extraordinary book includes full-color art and an excerpt from
Winter
, the next book in the Lunar Chronicles series.
I'm not necessarily sure if I hate or sympathize Levana.
The character was interesting.
Her motivations seemed to drive her. Her dreams becoming some twisted reality. She pretended things were true and acted upon it. She was so infatuated with Evret Hayle to notice he didn't love her as she assumed. She pretended things and made them come true. If they were accurate or not.
Levana must decide to accept her fantasies. And she does. I would feel for her, but she forces Evret to do things he doesn't agree with. She does this. Without mercy, I might add. She has a terrible backstory. (Not as in badly thought out.) A haunting one. She acts recklessly, though. She buries herself in her dreams and does what she thinks is 'right'.
In short...I don't sympathize with her.
She had a terrible sister. Wow. Channary is terrible. She is such a bad mother to Selene as well. She doesn't know who the father is? Can we safely assume the father probably doesn't know he has a child. I'm not sure he does know. Channary would have been a child a child abuser. Man. I hated Channary. Even if I hate Levana, I hate Channary more. She was so rude to Levana. She treated her baby sister like trash. For what purpose? Her entertainment.
The way Marissa Meyer weaved in aspects of the fairy tale was pretty good. We have the magic mirror for the Evil Queen (Levana.) We also have the sour apple candies Winter likes. (Don't worry if you didn't catch that.) I'm thinking, though. If Levana is the villain for all the other characters in the series, is she the Evil Queen and the Witch who locks Rapunzel up? Or am I missing something?
I didn't like the brevity of the story. I wanted more. Maybe some flashbacks to her childhood. I don't know. If we had gotten more of Levana when she was innocent and uncorrupted, I might feel for her better. That is if Marissa Meyer wants us to feel for her. I'm not clear on that. I just wanted more in general.
If there wasn't all that emphasis on romance... I wanted to get less of Evret being duped by Levana and more of Levana's emotional struggle with her sister. (I really didn't like Channary.) I wanted something else. Maybe less Evret and more Channary? Or maybe a peek into her past where her parents weren't looking at her and watching her grow.
And we still don't know what Levana looks like! Is anyone else wondering about this? I get it. She has scars. But what about her skin color? Her eyes? Her smile? I feel like we were supposed to get that. Instead, we have a sob story to try an make you feel for Levana. (Even though she ends up a rude tyrant.)
Sunny with a 50% chance of rain