Friday, May 29, 2015
Zahara Faraday looks like a normal eighteen-year-old and lives in a quiet neighborhood with her overprotective parents. She works at a bookstore and hangs out with her best friend Becca King on a daily basis. But underneath the normal lies a secret life filled with dangerous supernaturals. Zahara belongs to a world made of Light Witches, rogue Imagoes (supernatural creatures with super strength, speed, and silver skin when the moon is out), fallen angels, and Nephilim (hybrid children born half-human, half-angel). Where her father Solomon Faraday is human, her mother Mia and her Aunt Catalina are Light Witches. They help protect the human world by hunting down rogue supernaturals who commit heinous acts against humans. What they never expected was the possibility of having to hunt down the one rogue coven they had befriended and come to trust in their battle against Lucifer. Rekesh Saint-Louis is the leader of the most powerful Imago coven in Florida and now he's the most suspected. Supernatural bodies are starting to pile up with an ancient ritual long forbade being used to murder them and the symbol, one large cross with four smaller crosses around it—which represents Rekesh's coven— being left behind. Rekesh and the Elders of his coven set out to find who is behind the murders and clearing his name before a war between the covens begins. To make matters more difficult, Rekesh also has to deal with the return of someone he has been keeping a secret.
Meanwhile, Zahara and Becca are spending more time brushing up on their training, knowing an attack from Lucifer can come at any moment. Between patrolling neighborhoods and hanging at the boarding school created by Charles Stephens—a fallen angel who created the school to protect the children of rogue supernaturals—they are thrown into one battle after another. Zahara begins to develop a closer bond with Jason as they train and chase down clues to clear Rekesh's name. What she doesn't know is the very powerful secret Jason is keeping; a secret that will change the course of the fight with Lucifer.
But Rekesh's coven being set up isn't the only danger. A new powerful and lethal drug has emerged from the shadows of the supernatural world called Inferi. The drug has two deadly side effects: it leaves the supernatural hungering for blood—both human and supernatural—and grants them the elemental power they had once possessed.
Lucifer is on the move and he will stop at nothing to get his hands on Zahara and complete the first act of his plan.
A battle is about to begin.
One that may cost the Faraday family everything they hold dear.
Lucifer was a fascinating character. I wanted to find out his motivations for everything. Revenge? Why was he who he was? Was he truly just evil? No. That can't be. He had to have motivation. I can't believe someone is just purely evil. There are reasons. Lucifer was fascinating. Silently stealing souls. He did everything without notice. No sparkles. No fireworks. I can say this. He was intriguing. Still is. I can't wait to see how Lucifer evolves. And I can't wait to witness his master plan.
Michael was very kind and angelic. He seemed a bit too perfect honestly. I liked his powers, though. He could do so much more. If he cared to incinerate Jason. (That would suck.) He was very kind. And very knowledgeable. What I am wondering is this. Who was controlling the body for most of the time? Jason or Michael? We get a lot of Michael talking about his skin getting hot around Zahara. But Jason assured it was him. I gained a question. Not the best thing, though...
I liked that I got both Lucifer and Michael's perspectives. We saw the polar opposites. Angel and fallen angel. The good and bad. But who is who? That's the eternal question.
You're probably wondering why I'm not talking about Zahara or Becca or Rekesh. The story was partly in Lucifer and Michael's perspective. I did want to focus on them.
I really enjoyed the plot. It got really fascinating to see both sides of the story doing certain things. It seemed more fascinating than the first story's plot. It was more action. More action sequences. And, thankfully, less dates. But I was shocked by the drama from the relationship. Man. That was surprising. I didn't expect that.
The action was amazing. Lots of fight scenes. And magic. MAGIC. (Squeal.) The magic made the Light Witches and everyone have to fight differently. Cautiously. And maybe get hit more. I truly enjoyed the fight scenes. They made me happy and excited.
The romance. I can't say I liked it. Or not. It was hard for me to decide. I liked the drama between Rekesh and Becca. I wasn't convinced of any relationship being solid. Well...Solomon and Mia. I mean...whoa. They work so well together. Rekesh and Becca was okay. I didn't really like all the presents and everything. (How does car restoration get you THAT much money? I thought it wasn't the best business. Guess I was wrong. Classic cars is something else. That's the money maker. Unless...it's restoring classic cars. Is it? I dunno.) Becca does act like a little bitch sometimes. She got really angry at Rekesh over Amos. Why would he tell you? He has secrets. Everyone does. Just because you're dating doesn't mean you get a ticket to his innermost secrets. It's a secret for a reason, Becca.
And Jason and Zahara. I don't...what. I was just getting used to Bryan and Zahara. Now this? I can't. I won't. I don't like this. Why are there so many couples? I mean really.
I liked the cliffhanger ending. Many things were revealed. We have more to find out. This story wasn't bad. I got things. Like Zahara actually being used for her purpose. And Lucifer actually did something. Gasp. I felt like the battle at the end was great. Really saw something. People had to fight. Magic and non-magic. Angels and non-angels. It was havoc. It was crazy. But I enjoyed it.
I can't wait for the next story. Maybe we'll get more of the diary. Maybe we'll get more Lucifer and his motivations. Who knows?
Thursday, May 28, 2015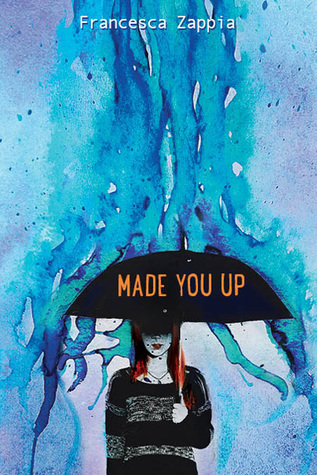 Reality, it turns out, is often not what you perceive it to be—sometimes, there really is someone out to get you. Made You Up tells the story of Alex, a high school senior unable to tell the difference between real life and delusion. This is a compelling and provoking literary debut that will appeal to fans of Wes Anderson,
Silver Linings Playbook
, and
Liar
.
Alex fights a daily battle to figure out the difference between reality and delusion. Armed with a take-no-prisoners attitude, her camera, a Magic 8-Ball, and her only ally (her little sister), Alex wages a war against her schizophrenia, determined to stay sane long enough to get into college. She's pretty optimistic about her chances until classes begin, and she runs into Miles. Didn't she imagine him? Before she knows it, Alex is making friends, going to parties, falling in love, and experiencing all the usual rites of passage for teenagers. But Alex is used to being crazy. She's not prepared for normal.
Funny, provoking, and ultimately moving, this debut novel featuring the quintessential unreliable narrator will have readers turning the pages and trying to figure out what is real and what is made up.
The characters were amazing.
Alex was the cool sort of crazy. She did a lot of weird things. The Freeing of the Lobsters. Crimson Falls. Many different things. And her mental illness didn't overpower her personality. It complemented her person. The paranoia. Checking for tracers in her food. These were common place with Alex. And it highlighted the caution she took. I thought her mental illness made her special. Different. Not all characters have melded their problems into their life as seamlessly as Alex has. And her voice. Sassy and quick. She was clever. But also very...closed. She was reluctant to like Miles. Alex had a good voice. And I liked her character. She relied on people. And people relied on her. The question that lingers is whether the world you read is reality or not. For her, I mean. Is Miles real? Tucker? Who is real? Who is just a figment?
Miles was mysterious. He reminded me of a friend. His personality was different. The good kind, though. He was dark. Closed off. Standoffish. I thought that was amazing. I am a huge fan of dark and mysterious. And Miles fit the bill. People were scared of him. (And I'm not sure I would rather be loved or hated.) He wasn't good with emotions. (I can relate to that. I found out recently through careful self-examination that I'm not very strong in the empathy area. Woohoo! People who don't work well with others. People who can't comprehend emotions! FTW! WE RULE! But yes. That's true. I'm not perfect, never said I was.) There was just something about him. His past. His present. It lured me in. His personality did the rest.
The plot was interesting. It seemed to follow the pattern of nothing happens, reveal, and reaction. Like with Alex's sister. And McCoy. And the snake. You felt like nothing else was coming. Then wham! Everything is there. It seemed like the story was tricking you in every way. Deceiving you. Making YOU, as the reader wonder what was real. This was a story you had to keep reading. It drew you in. Kept you wanting for more. The reveals shocked you. You were clinging to the pages. Every word captivating. That was this story. The plot was fascinating. So many things happened. You had to know how Alex would react. Would she be surprised? Smug? Happy? Depressed?
I started wondering what WAS real. Or is nothing real? Is this ALL a dream? I had to read more carefully. I had to focus. The story made you do that. Questioning reality in general.
The question is...what is reality?
There was a lot of drama. But not a lot of action. Not that I didn't enjoy the drama. It was great. Edge of your seat. I had to continue reading. There was so much happening. You needed to know. What happened? What now? The urge to know overtook anything else. If I could, I would read the entire thing in one fell swoop. (School sucks. It gets in my way.) There could have been some action scenes. Or something. A fight scene? Cat fight! Doesn't that seem...interesting? I would be glued to the page.
The romance was a bit unexpected. I didn't expect it. Why? The two didn't need to be romancing. Each other or someone else. They were troubled. Troubled plus romance? Hell. It doesn't always work.
I will say this. These two were good for each other. It seemed to
work. They could help each other. They lost themselves in each other. It was crazy. Wild. I wasn't sure. These two could work in the end. Somehow. Someway. They were two puzzle pieces they didn't fit with anyone else. They had something.
Alex did change. I thought it was a good change. A crazy change. It wasn't bad for her, though. She seemed happier. Better. She had someone to rely on. Perhaps that's what she needed.
The ending was satisfying. I felt like it worked. Alex got what she wanted. Miles and a better future. I thought that was good. It suited the book. It made me happy to see her happy. Kissing and loving. In love. Crazy in love. It was odd. But the romance...worked. Somehow. I'm not sure how. There were no more questions. Nothing I wanted to ask.
She got her happy ending. In an odd way.
Weather:
Sunny with no clouds


5/5
Gia Kearns would rather fight with boys than kiss them. That is, until Arik, a leather clad hottie in the Boston Athenaeum, suddenly disappears. While examining the book of world libraries he abandoned, Gia unwittingly speaks the key that sucks her and her friends into a photograph and transports them into a Paris library, where Arik and his Sentinels—magical knights charged with protecting humans from the creatures traveling across the gateway books—rescue them from a demonic hound.
Jumping into some of the world's most beautiful libraries would be a dream come true for Gia, if she weren't busy resisting her heart or dodging an exiled wizard seeking revenge on both the Mystik and human worlds. Add a French flirt obsessed with Arik and a fling with a young wizard, and Gia must choose between her heart and her head, between Arik's world and her own, before both are destroyed.
About the Author
Brenda Drake, the youngest of three children, grew up an Air Force brat and the continual new kid at sc hooluntil her family settled in Albuquerque, New Mexico. Brenda's fondest memories growing up is of hereccentric, Irish grandmother's animated tales, which gave her a strong love for storytelling. So it was on lyfitting that she would choose to write young&n bsp;adult and middle grade novels with a bend toward thefantastical. When Brenda's not&nbsp ;writing or doing the social media thing, she's& nbsp;haunting libraries, bookstores,and coffee shops or reading someplace quiet and not at all exotic (much to her disappointment).