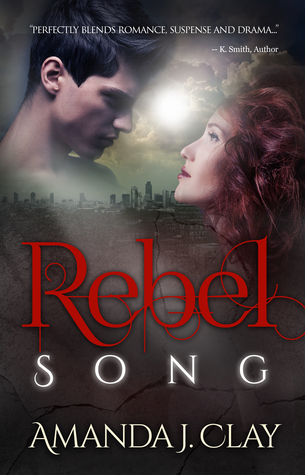 A reluctant hero
A determined princess
The revolution that stands between them
The once prosperous European kingdom of Arelanda has been plagued with poverty and corruption since the failed rebellion tore it apart. Now, rebels stir again in the capital's underbelly, vowing to depose the monarchy and overturn the unjust government.
Seventeen-year-old Rogan Elwood, son of a rebel leader executed for treason after the first rebellion, has borne a tainted legacy his entire life. As he is pulled deeper into conflict, Rogan must face his calling in the future of the rebel cause—waging his want for peace against his desire for vengeance. Everything changes when he falls for Elyra—beautiful, idealistic and determined to bring Arelanda a better future. She also just happens to be next in line to the throne—if the corrupt Minister General doesn't beat her to it.
Caught in the midst of a budding civil war and surrounded by enemies on every side, Elyra and Rogan must fight to save themselves and their country—and choose between each other and their duty.
Rogan isn't a bad character. He's smart. A good leader. But he hides in the shadows. I'm confused about why he does that, though. Sure, there's Cable and Donal. He could stand up if he liked. He's young but not surprisingly so. He has brains. I feel like he doesn't use it, though. He has the spirit. And he's a person who cares a lot about the future. Whether that's with a person or a cause. I think Rogan could have been given more leadership roles. He's a great leader. People just got to notice that. I like that he's a good leader. He's a great leader in fact.
I liked Elyra much more. She's a determined girl. I liked that spirit. She has fire in her heart. And that can be good or bad, depending on her. She makes some impulsive choices. Which can be ignored for now. She's good, though. A kind person. (And in this story, kind people are sadly small in number.) She does the most she can. Especially for those she loves. For those important to her. I think the thing I like the most about her is her passion. She cares. She loves. She puts effort into her work. And she loves what she does. Whether it's kissing someone or sneaking out to see said someone or teaching children or protecting her lovey-bug.
The plot...not bad. I want to say it was more interesting for me. But it wasn't. A lot of it was Rogan and Elyra locking lips. Or Elyra saying it was wrong for her to be with Rogan, and Rogan shutting her up with a kiss. (Always the best way to shut people up.)
There could have been more action scenes. It was about a rebellion. So where's the rebellion? I'm not sure entirely. There were only a few scenes. (I think the scene with Ben and Demos was the best. I liked how Ben was defiant and tough. He's more of a rebel than Rogan is. And Rogan is deemed a 'leader'.) There could have been more than sly words and inspections. There is more to a rebellion than that. Where are the attacks? The sieges? The north seems to have more fun than the rebels in the city. I think that the rebels should have had more. There wasn't much until the little...siege. And that was a mess. There wasn't really fighting. Just a smoke bomb as a cloak as the rebels fled. I think that there should have been more. Perhaps the next story will have more. (The next part of the series. I can tell this is a series. This would be an unsatisfactory standalone.)
It's been a while since I've read such...passionate romance. Surprising actually. They were really having at it. I wasn't sure what to think. I just continued to read on.
I think they do have something. I won't say I approve of this relationship. They meet in an odd place. (Some couples meet in bars, so I'll let it slide.) And they start to connect. Not sure why, though. It seems as if they just like the others looks. And I don't like that. But they do have chemistry. It's passionate when they kiss. It's fire really. It freaks me out a bit...
It does follow a cliche, though. Something that annoyed me in fact. (I'm a fan of enemies turned lovers. That's just a lot of fun.) I don't like the prince and pauper style of this romance. The rich Elyra and poor Rogan. I think the rebel part was a twist. But it seemed too formulaic. Elyra pushed him away. "We can't risk it." He couldn't stand being away from her.
That just seems too common. A Cinderella story in a way.
The ending is sweet. But open-ended. So many things could happen. Maybe death. Maybe Rogan comes back and is killed. You don't know. Maybe Rogan goes to the north.
The story at the ending, the things before the story actually ends, are...not the best. I can't say they're terrible. They're about cunning people and politics. Which I have no care for. At least the politics part. Cunning people are some of the best people.
I do think the book is okay by itself. There is probably a sequel, though. I don't know entirely. It just seems that way. It would be a terrible ending for a standalone. (Terrible as in leaving too many questions. Again, open ended.)
Sunny with a 50% chance of rain