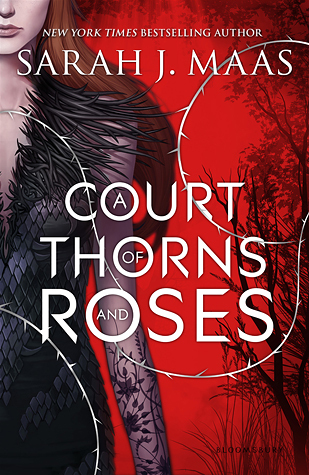 A thrilling, seductive new series from New York Timesbestselling author Sarah J. Maas, blending Beauty and the Beast with faerie lore.

When nineteen-year-old huntress Feyre kills a wolf in the woods, a beast-like creature arrives to demand retribution for it. Dragged to a treacherous magical land she only knows about from legends, Feyre discovers that her captor is not an animal, but Tamlin—one of the lethal, immortal faeries who once ruled their world.

As she dwells on his estate, her feelings for Tamlin transform from icy hostility into a fiery passion that burns through every lie and warning she's been told about the beautiful, dangerous world of the Fae. But an ancient, wicked shadow grows over the faerie lands, and Feyre must find a way to stop it . . . or doom Tamlin—and his world—forever.

Perfect for fans of Kristin Cashore and George R. R. Martin, this first book in a sexy and action-packed new series is impossible to put down!
I won't say I liked this story from the beginning. The beginning turned me off actually; it annoyed me. I started to warm up to the story after a while.
Feyre was a pretty tough girl. She was awesome because of this toughness. She was badass. I liked that she did what she had for her family. It was a promise. I liked that she kept her promises. (And fought back when she couldn't.) She truly cared for her family, even if it seemed like they didn't have feelings of warmth for her. Feyre's personality was rough around the edges. I felt like her change was quick. Too quick. She was tough. Then not? I was confused. She just ended up all mushy and gushy. Kissy kissy. I felt like that was too odd. I felt like it was too quick.
Tamlin wasn't bad. He could be better. He was mysterious at first. Then he was all smiles and cutesy la la la. I didn't like that. Tamlin did have a colorful past. I liked that. He held many secrets. It was fascinating to read these things that Tamlin did. The curse is hilarious. It's so specific. Seven times seven years? Why can't you just say forty-nine? What. I didn't get that. That's why I say it's funny.
Rhysand...ah. Dark and mysterious. Just how I like my characters. I liked Rhysand. He was dark. And mysterious. And that was cool. (So cool.) He had motives to do things. Secret ones. He was cunning and clever. Just the way I like my characters. Rhysand had secrets to keep. And things he wanted. He was cruel at first. But he slowly became amazing. Dark and mysterious. Secretive.
The plot was a bit boring. I'll say that. There wasn't much action. There was drama. Drama about the past, though. That wasn't bad. It was interesting enough. The plot is mostly frolicking through sunflower fields. (Which is okay if you like the fluff.) I wanted more action. More drama. The past was dramatic. Human lover. Destroy. Destroy. Revenge! MUWAHAHA. It wasn't bad.
I don't mind the three trials. Those are amazing. They showed Feyre's cunning and strength and weaknesses. I liked that. They were interesting. More action-y. Feyre was awesome doing the trials. The time between the trials was okay. It was a bit annoying since Feyre was with Rhysand.
The ending was much more interesting than the beginning. Or middle.
One word I can use for the romance was whoa. When people said steamy, they meant steamy. Full on steam. Whoa. It was crazy.
I felt like there wasn't something I like in the romance. It was too quick. It formed quickly. I thought it was too much on the random things Feyre was shown.
I can't deny the chemistry, though. There was chemistry. Totally. I blushed when I read it. (That sex scene. It was about to be too explicit.) When people said hot, they meant it. I thought they were kidding. The chemistry was there. It was hot. And steamy. Man. That made me blush.
The story caught steam as it moved on. The beginning was tiresome. It was a bit boring. I didn't like it. I considered putting it down. I didn't. Not sure if that's a good thing. I didn't completely like it. But the ending was satisfying. There was more movement. More action. More drama. I liked getting the tidbits of Tamlin's past. As well as Rhysand. (He was pretty cool.) And Feyre really came into her skin. She was supposed to be cool and badass. She wasn't like that until the three trails. (Loved the three trials. Loved it.)
The beginning was eh. It wasn't special. Just two future lovers. And their secrets weighing between them. I found nothing special about that. I didn't love it.
The ending was satisfying. There is no need for a sequel. There are no questions. It's a happy end. That's perfect. I liked the action. Ka-pow. Wow. And the last trial? Amazing. Feyre was really put to the test. Man. That was truly something. I thought the ending was fitting. It worked. I liked it.
I actually figured out the riddle. Heh heh. I could tell what it meant. (These books will have a definite answer. And it was obvious too. The answer was the important thing to the curse.)
Sunny with a 60% chance of rain