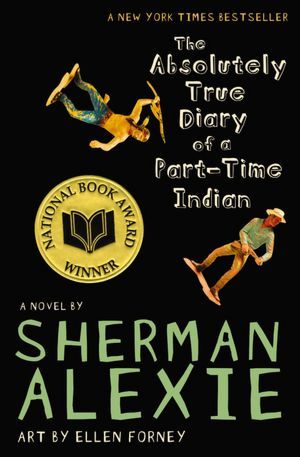 Bestselling author Sherman Alexie tells the story of Junior, a budding cartoonist growing up on the Spokane Indian Reservation. Determined to take his future into his own hands, Junior leaves his troubled school on the rez to attend an all-white farm town high school where the only other Indian is the school mascot.
Heartbreaking, funny, and beautifully written, The Absolutely True Diary of a Part-Time Indian, which is based on the author's own experiences, coupled with poignant drawings by Ellen Forney that reflect the character's art, chronicles the contemporary adolescence of one Native American boy as he attempts to break away from the life he was destined to live.
With a forward by Markus Zusak, interviews with Sherman Alexie and Ellen Forney, and four-color interior art throughout, this edition is perfect for fans and collectors alike.
I'm not sure what to think. There doesn't seem to be enough to judge. This book is so short. There isn't much for me to write about. Not to me at least.
This is a mini review. And it's extremely short.
I like Junior. He is an interesting character. He tries his hardest to stand up. He tries his hardest to be special. And he is. His world is drunks and death and being different. He is smart and talented. I think that's what makes him different.
I think a major part of Junior changes. And I like that. He gains confidence. Bravery. That's amazing. Before he was Just-a-Geeky-Guy Junior. Then he's a basketball star? Someone who left the rez? It makes him popular in two ways the bad and good.
There doesn't seem to be much plot. The story is about Junior at school. And playing basketball. And I didn't see much of anything else. It wasn't a dull plot. Boring. Not didn't happen. I read it quickly. I wasn't clutching the book. Or rocking back and forth curled up in a ball. The story was just there. Not dramatic. Not action-y. Just there.
The story doesn't hold back, though. It has some very real characters. The depressed (or something along those lines) sister. An angry best friend. Family. Love. Awkward people. And it's awesome. I like that.
The ending is nice. It's...sweet. A good friendship. Playing games. It's a nice ending. But not a good one. It was dull. And since when did Junior start caring? I don't know. I feel like there should have been closure. Not friendship.
Sunny with 50% chance of rain