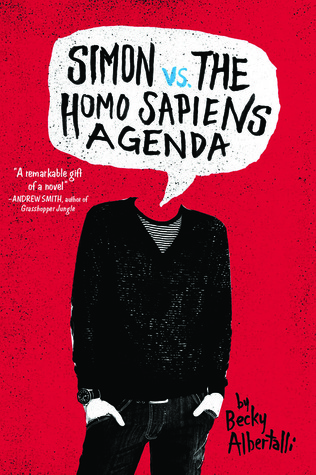 Sixteen-year-old and not-so-openly gay Simon Spier prefers to save his drama for the school musical. But when an email falls into the wrong hands, his secret is at risk of being thrust into the spotlight. Now Simon is actually being blackmailed: if he doesn't play wingman for class clown Martin, his sexual identity will become everyone's business. Worse, the privacy of Blue, the pen name of the boy he's been emailing, will be compromised.
With some messy dynamics emerging in his once tight-knit group of friends, and his email correspondence with Blue growing more flirtatious every day, Simon's junior year has suddenly gotten all kinds of complicated. Now, change-averse Simon has to find a way to step out of his comfort zone before he's pushed out—without alienating his friends, compromising himself, or fumbling a shot at happiness with the most confusing, adorable guy he's never met.
Simon is actually a good character. He's quirky. The good kind. An actor. But not one who yearns for the spotlight. He's kind. And a good friend. A bit too touchy-feely for me. He's not stereotypical. He doesn't act like people think gay people act. He acts like a normal guy. Except the little...teenage crush he has. (Then, he acts like a fangirl. And I know fangirl.) He isn't a bad character. But I won't say I love his character. He is nice. He is a good person.
But I can't say he's a good main character. I don't feel like he has too much depth. He isn't shallow. But he doesn't have an intriguing backstory. He doesn't have an interesting personality. He's not extravagant. I prefer extravagant characters. The coy. The sly. The liars. The magicians.
The plot isn't very interesting. There isn't much happening. Sure. There's the Tumblr post. And Leah's surprising...hatred. Then meeting Blue. But other than that? Not a lot of drama. There weren't screaming matches. It was just...there. There wasn't anything about the coming out. No gasps. Everyone accepted it. And Simon wasn't bullied. I know some places are accepting...but with how the author described Shady Creek...that doesn't seem likely. Alright. Where is the bullying? The 'faggot' scratched into the locker door? The signs? The punches and kicks? I'm not trying to encourage bullying. I'm saying it makes for a more interesting plot. Then you have more drama. Wow. I'm sounding really...asshole-ish right now. Apologies.
The plot was kinda...slow. It wasn't interesting really. Not much happened. I wanted something else. Something more.
The romance is so fluffy. It's a cotton candy cloud. I was squealing a bit as I read. Such a cute romance. The two were so shy. It was adorable. They kissed gently. Touched pinkies. (I don't think I can forget that... Touching pinkies? Wow. That's a rush! Sarcasm...)
But. It's too rushed. I know they talked online. Still. They just barely met. And they're considering the bed boogie? Ooh. Rushing it a bit. I don't are if you masturbated to the thought of him. That is just...moving it too quickly. I really don't think that's a good...influence.
The ending...satisfying. I think it's a good ending. It gave the book closure. Nothing happened to shock at the end. Blue and Jacques got together. (How cute!) I didn't have questions. Nothing came to mind. It was a satisfying ending to a not-so-satisfying book.
I ruined this surprise for me. I read ahead. Sigh. Which was terrible. I knew. The author could have covered up the name better... Sigh. Just skipping to a random page near the end gives you the name. And you'll never guess who.
Sunny with a 50% chance of rain