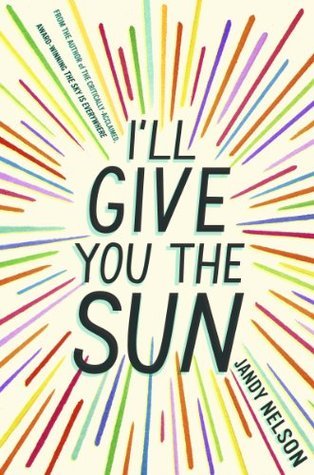 A brilliant, luminous story of first love, family, loss, and betrayal for fans of John Green, David Levithan, and Rainbow Rowell
Jude and her twin brother, Noah, are incredibly close. At thirteen, isolated Noah draws constantly and is falling in love with the charismatic boy next door, while daredevil Jude cliff-dives and wears red-red lipstick and does the talking for both of them. But three years later, Jude and Noah are barely speaking. Something has happened to wreck the twins in different and dramatic ways . . . until Jude meets a cocky, broken, beautiful boy, as well as someone else—an even more unpredictable new force in her life. The early years are Noah's story to tell. The later years are Jude's. What the twins don't realize is that they each have only half the story, and if they could just find their way back to one another, they'd have a chance to remake their world.
This radiant novel from the acclaimed, award-winning author of
The Sky Is Everywhere
will leave you breathless and teary and laughing—often all at once.
Spoilers Ahead
This story was...passionate. It was a wild ride, throwing you into the story. You drown in it, drinking in its majesty. You enjoy it. You adore it.
It's a roller coaster. It was a ride you hop on to. It had the ups and downs.
The characters were amazing. They were deep and amazingly made. They had backstory and personality. The characters were three dimensional. I loved this. It was amazing.
I loved Noah. He was amazing. He was my favorite character in this story. Noah was an artist. An amazing one. He had the personality similar to some artists. Broken. Omniscient. All seeing. I liked that. I liked Noah. He had depth. A backstory. Seeing a traitorous mom with a sculptor. Not getting into his dream school. He went through so much pain and agony. I couldn't stand seeing his heartbroken when Brian left after kissing him. Gosh. That's rude. (I truly didn't like Brian. Or Oscar.)
Not that I didn't like Jude. She was good too. I thought she was interesting. She had the potential to be amazing. I just didn't like the romance thing. Sure, Noah had that too. But his heartbreak was shattering. It was hard to read. My heart broke with him. Betrayal.
Jude was interesting as well. She had formed a bond with our resident sculptor and Oscar. I liked that. And her revelations were amazing. I liked that. She became someone else. And realized things. I wanted that from Noah. That would have made Noah the best. (I would adore him more.)
Oscar was interesting. I liked him better than Brian. Brian seemed like an ass. He kept denying that Noah liked him. Oscar was a beautiful soul. He had terrible things happen to him. How he changed and slowly opened up to Jude was interesting. I wanted more about him. His mother. His drinking. The drugs. The way he got into modeling.
The two perspectives was amazing. I had to keep reading to get back to Brian and Noah. It was interesting. I got to a part where I demanded, out loud, to have more Noah. I couldn't stand how the story was divided. I couldn't.
I wanted to know more. The dual perspectives made the story go on. And on. You wondered what happened next.
And switching between the two ages? Wow. It made things a bit hard to keep up with, but I adored it. You needed to know about the past and the present. And what you learn from Noah affects what happens in Jude's time.
I also disliked the romance. I mean...it's adorable, but I still feel like it wasn't the best. There could have been improvements. I didn't really like that the twins seemed so invested when the lover didn't. (Especially Brian.)
I liked how the relationships affected the characters. Man. I loved it. The characters changed because of their lover. They became new people. They returned to their better selves.
Love affected all the characters. The twins' mother. The sculptor. They affected people in good and bad ways. It made Brian a bit obnoxious. (You can tell that I didn't like him. At all.)
The writing style wasn't the best. I didn't really like it. It seemed...bumbling. And confusing. I didn't really like how Jude described things.
I didn't need to know that. Definitely. I didn't want to read that. And the way he describe colors...no. I couldn't stand it. It was hard to read.
Cloudy with a 10% chance of rain