As a person who enjoys a challenge, I've decided to take on THREE.
For this challenge, you pick a level.
I'm an Omnivorous Bookglutton. (10+ LGBT books from any genre.) I take that as, if it has LGBT in it, it's good enough for me.
I'm not a major LGBT reader. I am a supporter, though, and perhaps a member. (Questioning, dear readers. I am Cecil without knowing he likes Carlos.)
________________________________________________________________________
I am Asian American. And questioning. And atheist. I am a minority in some cases. (Minority in the USA, folks. Not Asia.) I am one of those people. I live in a diverse world. This should not be hard for many to admit, but it is.
I want to branch out from the majority and read more of the minority.
the details.
Dive Into Diversity

officially kicks off on January 1, 2015 and will run through December 31. Each month, Rebecca and RBR will publish a diverse post with a Linky. Simply add a review or post you wrote about diverse books to the Linky, and that's it!
what does diverse mean exactly?
We loved this explanation from the We Need Diverse Books Tumblr: "We recognize all diverse experiences, including (but not limited to) LGBTQIA, people of color, gender diversity, people with disabilities, and ethnic, cultural, and religious minorities."
the good stuff.
There are no numbers of books associated with this challenge. Nope. (Though we do hope you challenge yourself to reading at least one diverse book a month.) There is an incentive for those of you who participate each month and also use our hashtag

#DiversityDive

to spread the word. You know what this means… giveaways and more.
________________________________________________________________________________________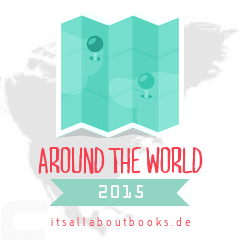 As a world-class traveler (not) and a fan of different cultures, I am excited for this one. I love traveling. Always have. I've been to London and parts of Asia. I've explored the Great Wall (thrown snowballs down it as well.) I've been to Greenwich and seen the line that divides the world. I've seen a lot.
But I haven't read a lot.
My books are mostly based in these amazing (or not) United States.
I want to branch out and read more.
This challenge will help me do that.
If you want to participate all you have to do is:
Create a google map


(A google map is optional. If you have some other map you can embed, you can use that one of course!)

Embed that map somewhere on your blog
Grab the button if you want and link to this challenge
Enter the link to your blog post/page with the map
Optional: choose one or more of the mini-challenges listed below
The "Rules":
There is no start and/or end date for when to join the challenge (latest date to enter a link is Dec 31th, 2015)
A book counts if you've read it in 2015 (= started AND finished in 2015), no matter when you joined the challenge
If characters travel to different places in the book, every place counts
Tip: you can connect places on a google map! ;)
One book can count for multiple mini challenges
The mini-challenges:
These mini-challenges are optional! The main goal is just to have a map full of dots that are hopefully spread all over the world. Some of these mini-challenges are rather easy, others not so much. For some you can set your own goal of books you want to read.
Read one book for each continent
Read one book for each state in the US
Read one book for each ocean (the character travels across the ocean, no matter how)
The mountaineering challenge: climb the Seven Summits
Three Poles Challenge: visit North Pole, South Pole and Mount Everest
Visit a certain number of extreme points of Earth
Read a certain number of books set in capital cities
Read a certain number of books set in at least 5 different places (e.g. road trip books)
Read a certain number of books that are set in two places from different continents
Read a certain number of books within a 100km/1.5 Mile radius of where you live
Visit a certain number of the most famous landmarks in the world
A to Z challenge: Find a place for each letter in the alphabet
Visit a certain number of countries.
Read books from authors from a certain number of different countries.
Read a certain number of books set in places you've visited yourself.